Chopta in Uttarakhand Imagine waking up to the crimson rays of the sun kissing the snow laden Himalayas. The cool salutary breeze wrapping you around the moment you step out of your warm blanket and birds chirping in a melody.
The huddled abode is surrounded by a forest of pines, deodars, rhododendrons, and other conifers that give it a postcard-perfect appearance. This is Chopta in Uttarakhand for you.
Where is Chopta?
Beautifully garnered amidst the quintessential velvety meadows, Chopta is home to the Tungnath temple and situated in the Rudraprayag district of Uttarakhand, which is a lush green valley in the lap of Himalayas offering an unobstructed view of Trishul, Nanda Devi, and Chaukhamba peaks.
Chopta is a part of Kedarnath Wildlife Sanctuary and offers an excellent opportunity for trekkers to scale to a height of 4000 meters. The enthralling trek of Chopta is coupled with camping under the stars under the open sky.
How to reach Chopta?
Rishikesh, Gopeshwar, and Haridwar are all well-connected to Chopta by road to the point where you should first reach either Dehradun or Haridwar and from there take a bus/cab to Chopta.
By Air – Jolly Grant Airport in Dehradun is the closest situated airport at a distance of about 220 kms.
By Train – At a distance of 200 km, the nearest railhead to Chopta is Rishikesh.
By Road – Chopta is well connected with Road. Can be visited by Buses, taxi, cab.
Where to Stay?
Chopta is, in all its essence, the base camp for the Tungnath-Chandrashila trek. One can find a few budget hotels that provide basic amenities to keep the stay comfortable in the region starting from Makkuband, Dugalbitta, Baniyakund and Chopta. Several locals in Chopta also offer rooms to guests that have decent facilities at their homes
Food Guide
Chopta is a small, quiet hamlet with few dining options. However, the place has some local eateries and roadside food stalls that offer North Indian and Chinese dishes. Some resorts and hotels may also have in-house restaurants that offer various food options.
Activities in Chopta
• TREKKING – Chopta offers a great option for hiking with its exciting Chopta-Tungnath-Chandrashila trek. In close proximity to this destination, one can also hike in Deoriatal.
• CAMPING – Being situated en-route to Tungnath, Chopta provides an excellent opportunity for camping to people who look forward to spending some time under the stars and amidst beautiful landscape.
• PHOTOGRAPHY – Chopta offers mesmerizing views of the undulating valleys and one cannot resist capturing the snow-covered peak with their camera.
Things to do/Places to see in Chopta region
• KANCHULA KORAK MUSK DEER SANCTUARY – The site is spread over 5 square kilometers, making it the perfect place to explore rich flora and Musk deer species. Although it is still off the beaten track, it is still worth visiting if you know how to reach it.
• Trek to Deoriatal (2.5KM from Sari Village)
• Trek to Tungnath and Chandrashila
• A visit to Tungnath Temple (one of the Panch Kedar Shrines) would be a wonderful experience.
• Ukhimath (Winter home of Lord Kedarnath)
• Makkumath (Winter home of Lord Tungnath)
• Kartikswami Temple (108KMs via Rudraprayag, 3KMs trek from Kanakchauri)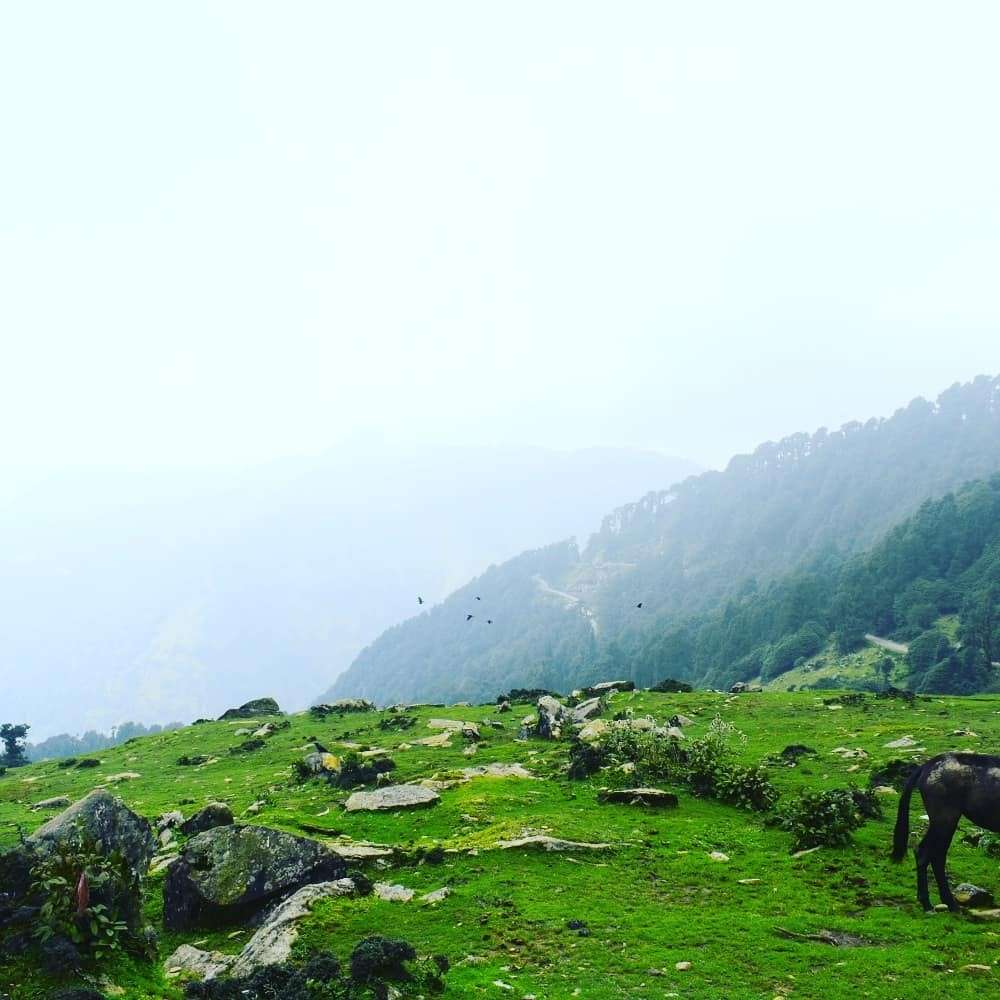 Best Time to visit Chopta
A trip to Chopta is enjoyable at any time of the year, but for adventure enthusiasts, a winter trek here is a dream come true. Temperatures plummet to negative numbers and the entire area is covered by snow. Cool breezes and moderate temperatures make summers a pleasant time.
Chopta Travel Tips
• It snows heavily at Chopta and Tungnath in winters, making the trek rather difficult. From Chopta, the trek is "moderate to easy".
• Last ATM is in Ukhimath. It is suggested to keep cash handy.
• You will need to carry all the essentials you may need during your stay in Chopta since Ukhimath is the nearest market (30 kms from Chopta).
Takeaway
Trekking can be minimal or you can opt to go camping at Tungnath and Chandrashila for a longer excursion. The picturesque villages that fall along the way add to the serenity. The area is also a suitable place to observe Himalayan birds, such as Himalayan monals. If you visit the place around December- February, you may witness snowfall. The roads may be occasionally blocked-in case of heavy snowfall. Chopta is undoubtedly one of the must-see places in Uttarakhand.
Also Read: https://thetravelb.com/destinations/north/visit-wagah-border-to-get-a-dose-of-patriotism/30/03/2022/