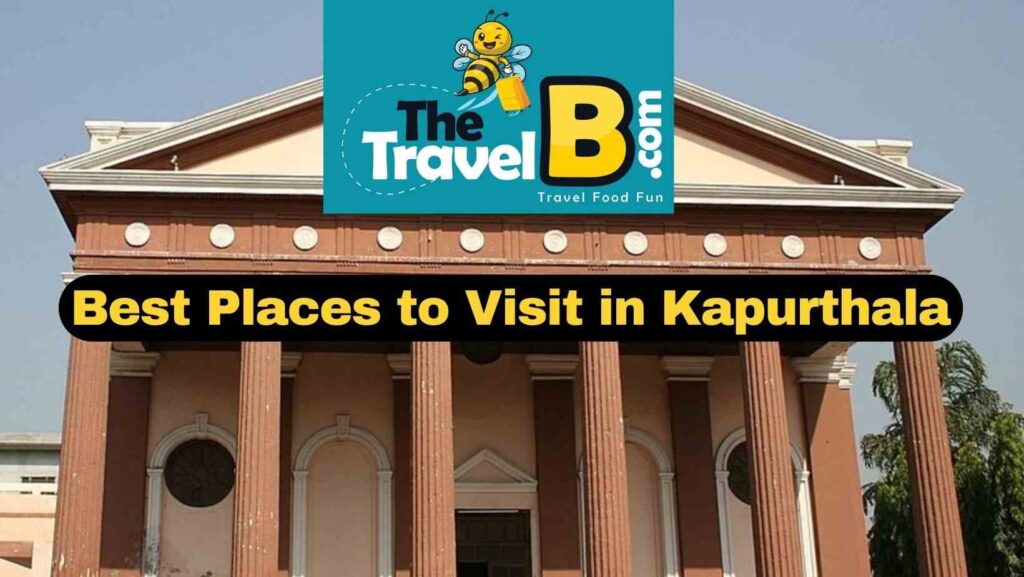 Whenever we talk about some of the most beautiful places in Punjab that have a number of options, Kapurthala tops the list. And it is said that if you are someone who has never visited Kapurthala, Punjab, then you have not explored the real beauty of Punjab.
Today in this post we are going to talk about 5 best places to visit in Kapurthala, that are most-visited.
Along with that we will also discuss the history of Kapurthala and more.
Best Places to visit in Kapurthala
Kapurthala is filled with a plenty of lovely places, but the thing is whenever you are visiting a new place, you have a specific time limit within which you should only explore the top places which are a must-visit.
That was the main motive behind creating this post, as we are not going to talk about each and every place to explore in Kapurthala, but we will be talking about the must visit places.
Explore More: Must Experience Jungle Camp in Madhya Pradesh in Winters
The first and one of the must-visit places in Kapurthala is the Jagatjit Palace. This palace was built by the Maharaja of Kapurthala, Jagatjit Singh. Currently, it is being used by the National Defence Academy to train enthusiasts for defence forces.
The first thought that will come to your mind after visiting this palace is "Huge & Amazing", yes you heard it right. This place is huge, every single thing linked with this palace is massive, also it's spread around a lot of area within which you would be able to find separate sections for everything.
This place was so massive and amazing that the National Defence Academy didn't require any further construction to fulfill their requirements.
Location: Jagatjit Palace, Kapurthala-Jalandhar Road, Kapurthala, Punjab 144401.
We all must be aware of what wetlands mean, but when we are talking about Kanjli Wetlands we would ask you to create a map in your mind for the wetlands that are exceptionally unique and different from every wetland you might have visited till now.
You are going to check out a number of new bird species here. The best part of this place is that you can directly visit this place anytime and stay here for some time in the quiet surrounding.
That will add a lot of peace to your life. In case if you are someone who is photo enthusiast and want to get some photoshoots done in nature, then again the Kanjli Wetlands, Kapurthala is the best place for you.
It's also a great place for picnics, you can visit this place with your friends or family, you can also bring your food items here, just make sure that you don't litter here.
You all must have heard people complimenting a place by saying – "You'll never feel that you are visiting a place in India" – the same thoughts we have for the Moorish Mosque in Kapurthala.
If we talk about the history of the Moorish Mosque then it was created by the then Maharaja of Kapurthala, Maharaja Jagjit Singh who built this mosque as a part of their love.
Right after visiting this place, you will feel like you have visited the most beautiful place that does not exist on the earth. If we have a look at the facts then Moorish Mosque is also considered as the most beautiful and best mosque in South-East Asia.
Within this mosque you would be able to find a lot of paintings that are created by the students of Mayo School of Arts in Lahore. Whenever you are visiting this mosque make sure to check out those images precisely, as you will notice that every painting is depicting a story.
You must have visited a lot of gardens till now, but we guarantee that the Shalimar Gardens are something that you may have never thought of. These gardens are exceptionally unique and properly well-structured.
Every single thing that you notice at Shalimar gardens is well planned, which means if you are able to notice a short flower structure that is also a planned one. Along with that you would be able to notice that the other gardens are built in a very closed structure but that is not the case with Shalimar Garden, as this is an extremely open garden.
Right after visiting this place, you will fall in love with this garden and the quietness of it.
In case if you are looking forward to spending some of your time in nature or at a quiet place then Shalimar Garden is the best place for you.
Are you looking forward to checking out a place in Kapurthala that is built using a mixture of modern and historic touch up? If yes, then Jagatjit Club is the best place for you. Right after checking the building of Jagatjit Club, you would be able to notice that the design of this place looks like the White House in the US and again everything is massive here.
It is said that the Jagatjit Club building was used for a number of reasons in different centuries. Firstly, it was used as a church, later on it was started being used as a cinema hall, and currently it includes a club in it.
This place is a must visit, even if you are someone who never visits any club. Because you would be able to get a unique vibe here.
Conclusion
Kapurthala is a place filled with history and as the time changes people are adding modern touch to everything which makes the perfect mixture. Today we have discussed a few best places which you should visit whenever you are traveling to Kapurthala, and every place has a different and unique story to tell.
Make sure to visit those places and try to understand what they want to tell.
India is blessed with many attractive destinations and it is not that difficult to choose one for your next vacation. However, instead of picking the routine destinations, this time take your loved ones to any unexplored location and enjoy each moment. TheTravelB.Com is your best guide to select underrated destinations across India. Reach us @ https://thetravelb.com/contact-us/ or send an email to contactthetravelb@gmail.com to share your experiences or for any suggestions.
Explore More: How Does a Day in Jalandhar Look Like